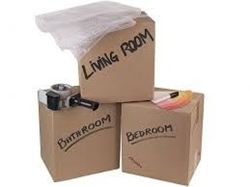 Whether you're upgrading to a bigger pad, or downsizing after your family have flown the nest one thing's for sure, moving (particularly packing) is a stressful business. Where do you start? What do you pack first? Will you even get it all done? are undoubtedly questions that are going to be buzzing around in your head. However if you stop for a minute, take a deep breath and start planning, then your move might go a lot smoother than you think (Well, at least from a packing perspective anyhow). With this in mind, here's a 1,2,3 of packing that you might want to follow.
Step 1- You've gotta have a plan!
You might know the saying "failing to plan is planning to fail" and this definitely applies to packing. If you don't plan ahead then you run the risk of packing items before their time, and some will get lost and even broken. Instead have a distinct room plan for each room detailing important factors like when items get packed, how it's packed and in what order.
Step 2 – Label as if your life depended upon it
Let's face it, when we're packing items to move, everything gets packed into brown boxes that are exactly the same size. If you have a multitude of them, how are you ever going to locate something in one of those said boxes if you don't label them. Whether you have an intricate colour scheme, coded lists or something as simple as writing 'kitchen no 1' on the outside of the box, then do whatever is easy for you, but make sure it's labelled.
Step 3 – Fits and starts is best
This is probably the most difficult part because it's a 'big picture' task. However if you break that task down into smaller chunks such as rooms, then you can plan when they need to be packed. This saves a ton of time unpacking things you suddenly need that have already been packed. In addition you can start with the room that gets used the least, maybe a junk or storage room if you have one, and finish with more popular rooms where items are used up until the last minute such as the lounge or bedroom.
So there you have it, 3 steps to packing bliss!
If you're searching for a removalist to help you with your local move then you might want to contact On The Move Removals. We're Brisbane's most trusted local movers and not without good reason. Call us on 044 992 2603 for a quote today You won't be disappointed.