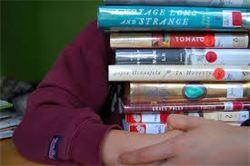 Okay so in this day and age, many people prefer to view books via an e-reader rather than a good old fashioned paperback. That said, there nothing that gives you a warm fuzzy feeling more than when you're curled up on the sofa with a glass of wine and a good paperback. If you consider yourself a bit of a bibliophile, then moving house can be a stressful time for book lovers as there's nothing worse than unpacking a box of books at your new home only to find, bent spines, dog-eared corners and ripped pages. Therefore it's important to know the best way to pack them so that they don't get damaged. Let's take a closer look…
Get the right boxes
First thing's first, you need to select the right box. Books by their very nature are heavy so make sure that the boxes they're being shipped in are strong and sturdy. You can purchase boxes from new. You know, the ones with the specific cut out handles, but personally speaking, supermarket boxes work just as well and they shouldn't cost you a cent. Look for small compact, sturdy ones no bigger than about 45cms. Anything larger and you might be inclined to over fill it. Oh…and you'll definitely need lots and lots of tape! Preferably of the brown, packing variety.
Line boxes with packing paper or bubble wrap
Some people recommend that you line your boxes with either packing paper or bubble wrap. Bubble wrap can be expensive unless you've got some spare lying around of course. However lining your boxes with packing paper might well be a good idea especially if you've got some nice looking hard-backs with those attractive looking slip-covers. Oh, and don't forget to re-enforce the bottom of the box with packing tape. The more you use, the stronger it's likely to be, so don't skimp.
Biggest first
Start with packing your largest, heaviest books first. This way they won't be sat on top of lighter books. Also it's a good idea to always pack them flat. If you decide to stand them up, it'll force them to take the whole weight of any other boxes and could damage the spines.
Separate stacks
Always try to put at least two separate stacks of books in each box and leave a gap at the top. This way the bottom books aren't taking the load weight of a complete set of books and besides it's easier to lift if the weight is distributed evenly. If you have gaps (and chances are that you will) make sure that they're filled with said packing paper or bubble wrap. Even an old rolled up jumper or towel will do the trick.
Tape it up
When the books look secure enough so that they don't move then proceed to tape up up the box. If you're a particularly organised person, you can label your boxes so that you know what books are where when it comes to unpacking them.
And that's it! It really is that simple. For those who simply don't have the time to do their own packing, or would rather pay someone else to do it fore them, then there's always Brisbane's most trusted local movers at On The Move Removals. Call us today on 044 993 2603 for a seriously competitive quote.