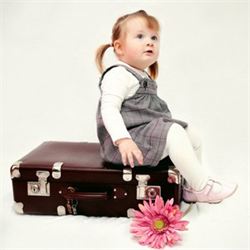 When you're moving house it's easy to get so wrapped up in all the practicalities and organisation that's involved that you may just forget to take into account the feelings of your children. Moving can be a tough time for them since they're leaving behind their friends and familiar places. Saying goodbye to their bedrooms can also be a big wrench. They'll be starting a new chapter in their lives. One which involves adjusting to a new house, sounding out the neighbourhood, starting a new school and making new friends.
Here's a few tips for getting the kids involved from the get go:
Preparing for the move
Let your children know as soon as you can about the move since this will give them more time to get used to the idea. Let them express their feelings and be totally honest about your own. Help older children to create an address book so they know they can stay in touch with friends or, if they use the internet, help them set up emails or create a profile on a social networking site. You could also encourage them to start up a blog.
During the move
Try and remain positive and calm since any signs of stress will be quickly picked up by your children and may unsettle them even more. Get the children involved in packing. If they're old enough let them put their belongings in boxes and spend a fun time decorating their boxes. It's also important during the days leading up to moving day to stick to their normal routine and bedtime. Encourage them to make a scrapbook of their 'old house' filling it with photos, a piece of their wallpaper and pictures of their friends. Lastly, remember not to pack their favourite teddy or toy.
Getting settled at the new house
Begin by just unpacking the essentials and leave other boxes until later. Make sure that the children's rooms are organised with familiar belongings around them, and as soon as you can get them back into their normal bedtime routine. Discuss with them how they'd like their new bedroom to look since this will help them to feel like they're in control of their environment once more. Also take time out with them exploring the neighbourhood and locating parks and pizza restaurants, or anything else that they really liked about their old neighbourhood. Encourage them to make new friends by inviting them round after school for tea.
Moving house is a big deal for adults and children alike, so don't expect it all to be plain sailing.
If you're planning your move, then why not give us a call and tick one more item off your check list.
We've been servicing the area of the Gold Coast, Sunshine Coast and Brisbane for many years and know it like the back of our hands. Call us today on 0449932603 and let us take the strain.