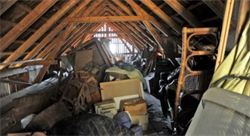 Let's face it, we all like a good purge every now and then. Whether it's a detox for your body, changes in your personal life, or 'getting rid' of physical clutter, the benefits are immense. That said the process of actually getting up and doing it can be daunting for many. However one of the many good things to come out of a potential house move is that it gives you the opportunity to do exactly that. Not only will clearing out your clutter it make you feel good (fresh start and all that) it's going to save you money too.
How so?
When you book a removalist to help you relocate, they usually charge either by the truck size or by the cubic meterage. By getting rid of a multitude of 'stuff' that hasn't seen the light of day since it was moved from your last house, or that you just plain never use, could be the difference between a couple of cubic metres or indeed a smaller truck.
Now the sight of dollar signs before your eyes has motivated you to have a good old sort out what can you do to get rid of it. Here are a few ideas.
A garage sale
There's no getting away from the fact that we're a nation of bargain hunters and as a result there's nothing more popular than a good old garage sale. It's a great way to get rid of that dress you bought on a whim but never wore, or that guitar you thought you'd learn to play but never got the time. Remember, one man's trash is another man's treasure and if you make a little bit of cash out of it in the process, then it's a got to be a win/win situation right?
Re-purposing
One way to make money out of your unwanted goods might be to re-purpose it. Up-cycling is a huge buzzword right now and even the most trendiest of apartments is likely to be adorned with something that's been re-purposed. If you're a dab hand with a sewing machine then why not alter some of your old clothes? New paint and different hardware can transform a tired old piece of furniture, and with a bit of imagination an an old pot or dish can be made into something really useful. Online auction sites are a great way to sell your re-purposed or up-cycled goods and you never know, they might be more popular than you think.
Give it away
Okay so you didn't manage to sell every item you had in your garage sale or upc-ycled. Before you head for the nearest skip, you might want to think about giving it away. Ask around friends and family, work colleagues or visit your local charity shop.
These are just a few options but for everything you need to keep, let On The Move Removals do the heavy lifting and packing for you. Contact us on 044 993 2603 for a competitive quote that won't have you running for the hills.