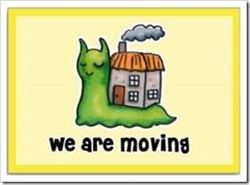 So your impending house move is drawing ever closer and you're just about getting through that list of 101 things to do. You've got the removalist booked, you're just about packed and you've arranged a time to pick up the keys to your new place. In fact right now you're feeling pretty smug, so after a long day you find an old cup that's been left in the drawer, pour yourself a glass of wine and flop down onto the sofa. However before long it suddenly dawns on you that you've actually forgotten to tell people that you're moving!
Sure you've told your parents and close family, but what about your extended family? Are they aware of your new address, or even that you've moved? It isn't just friends and family either. There are a whole host of other people you really should be telling.
Professional contacts
Your employer will certainly need to know if you've moved addresses as will other professionals such as your doctor and dentist. If you have regular treatment at the hospital, then they'll also need to know about your move. If you have kids, then don't forget to tell the school?
Utilities
After your professional contacts and extended family and friends, the next group of people you should be telling are the utility companies such as gas, electricity, water, telephone (both landline and mobile) and insurance companies. Your bank will obviously need to be informed as will other companies such as health care, credit card companies and of course, if you want to receive mail – the post office.
Government organisations
Finally when you've got through all that lot, there's one more hurdle and thats' governmental organisations. Places such as the tax office, electoral register, local council, government pension companies, the vehicle registration office, and of course social security, will all need to be informed.
Phew! That's a lot of calls to make, especially if it's a last minute rush. Thankfully technology means that you can also email and make changes online, but nevertheless… it's still all got to be done. By breaking it down into groups and tackling them in blocks, it makes the task in hand that much easier to manage. Also by starting as soon as you know your new address, you won't feel like you're up against it, especially with all the other 'stuff going on in your life.
Now you're an organising expert you can be rest assured that a good removal company such as On The Move Removals will help make the moving day itself go like clockwork. Contact us on 044 9932 603 for a competitive quote and guarantee yourself a stress free move today.