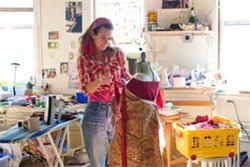 There are many reasons that people downsize. It could be that the family has flown the nest and the house is just too big. It could be that you're moving to a more expensive city or neighbourhood and have to downsize in order to stay on budget. Alternatively, it might be that you need to save money on the rent/mortgage and/or bills. Whatever your reasons – one thing's for sure, you'll have accumulated a lot of 'stuff'. As a result you'll have come to the realisation that you won't be able to take everything. With this in mind here are four top tips to help you to downsize your belongings before downsizing your home.
Is it broken, torn or just plain worn out?
Okay, so this is where you have to get a little ruthless. If it's broken, damaged, torn or worn out then you need to seriously ask yourself if the item is really worth taking with you? Are you likely to get it fixed or repaired, or does the cost of repair outweigh the cost of buying a new one? If the answers are 'no' and 'yes' respectively, then you should think about either throwing it away or recycling it.
Stuff you haven't used?
It's always best to go through your objects in a systematic fashion and that means room by room. If the item is serviceable, then the next question you should be asking yourself is "Have I used this item in the last year?" It pays to keep in mind when answering this question the fact that taking less stuff is going to save you money on removal fees. Therefore if the answer is no then it's a pretty safe bet that you won't ever use it. Obviously if it's of sentimental value then that's a different story, but if it's a state-of-the-art yoghurt maker that you purchased on a whim back in 1998 and which has been gathering dust ever since, then you probably know what you should do.
Is it going to fit into your new property?
It could be that you're downsizing from a 5 bedroomed house to a 3 bedroomed property. In this case, there probably isn't much call for the other two beds. The same goes for larger bits of furniture. It would be far better getting a return on your investment by selling them, or giving them to someone in need, rather than putting them in the garage or storage because you have no room for them inside your house.
Finally… do you really like it?
You know that ugly old old vase that was left to you in a will by a distant aunt, the one that's been gathering dust on a shelf in the upstairs toilet? Well now's the perfect excuse to relieve yourself of it. Remember, "someone's tat is somebody else's treasure".
So there you have it 4 top tips to helping you to downsize your belongings for your impending move. Now that you've downsized your belongings, then you might want to think about hiring the right removal company. Here at On The Move Removals we have been helping the people and businesses of Brisbane relocate for many years. As such we've become Brisbane's most trusted local movers. For a seriously competitive quote contact us today on 044 993 2603 and start the ball rolling towards a stress-free and happy move.